Trust Your Brake Service & Repair To Supertech
Specialists in Brake Maintenance
Driving around British Columbia can put stress on your vehicle. When you press on your brakes, you expect your vehicle to stop. If you do not maintain your brake system, your brakes can fail you and put you and your passengers in danger. The brake system in your vehicle is one of the most important components for you and your passengers' safety, but it often gets neglected.
From brake pads to the master cylinder, every component is vital and needs to be working properly. Here at Supertech we take your vehicle's safety seriously and provide you with expert brake service and repair at competitive prices.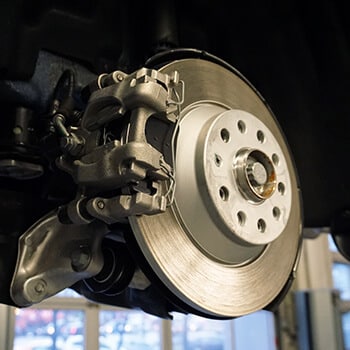 If you hear squeaking or feel less pressure when you brake, you need to get your brakes inspected by a professional right away. You can trust that our certified technicians can handle all your brake service and repairs.
Brake Service & Maintenance
As you know, brakes are very important to the safety of your vehicle. You should have your brake and brake pads inspected at least once a year to make sure they are working properly. Our technicians can properly do a full inspection to make sure your pads are not worn down. Your brake fluid should be checked regularly. This fluid is essential to all the working parts of the entire brake system.
We suggest that you as the driver of your car should listen and watch for warning signs of weakness of your brake system while you are driving. This could be strange noises or less pressure when you press your brakes. If you notice any of these signs, bring your car into our shop immediately to be checked out.
You can take precautions to help preserve the life of your brakes. Give yourself time to slow down and avoid braking suddenly as well as invest in good reliable brakes. The investment will be worth it to ensure the efficiency, safety, and durability of your brake system.
If your brakes have not been inspected in a while, bring your vehicle in today to have one of our technicians check them out. You can count on us at Supertech in North Vancouver Auto Repair and Aldergrove Auto Repair locations to ensure you get the best service and repairs available in North Vancouver and the surrounding areas. Make an appointment today by calling your nearest Supertech.
What our customers say
Really good service, showed up in the morning to get my rear camera replaced as well as an oil change. All the work completed by end of the day.
Felipe Opazo
19:12 23 Oct 23
Was visiting from out of town when I noticed my truck leaking oil. They were able to get me in right away and fixed the issue without over charging. I was able to get on the road and drive the hours through the mountains needed to get home without the worry about my truck having major issues.Had worried that maybe the reviews were a little too good to be true, but they are bang on from my experience! Would highly recommend to anyone who wants great, upfront and quick service!I cannot thank you enough for your help when I really needed it!
Vicki Henckel
16:56 23 Oct 23
Best overall experience @ SuperTech Auto, quick reliable repairs, quotes up front and down to earth people, fair and reliable !!
Kevin Payne
22:15 22 Oct 23
Friendy service job done right... and on time which is important to todays fast pace life-stile and a 3 year warranty, and also a seniors bit of a discount.. Great Place I recommend it.
Road House Tours
21:46 20 Oct 23
Probably one of the best garage i've ever seen ! The employees are all super nice (shout out to Shawn and Sarang) and they make sure you have a safe car and that you are happy with the results. They always call you and ask you before doing anything on the car so you don't have surprises at the end of the day and they make sure you don't spend extra money. It's really a gem i would definitely stay with this garage. It feels nice to really trust people for taking care of your car, specially as a woman so thank you again to this amazing team.
Pauline Ana Da Cruz
20:25 20 Oct 23
I drive an older truck that has a lot of sentimental value to me and is not something most shops would want to work on as It quite the laundry list of repairs needed. I took it to Supertech to see if there was any way to resurrect it. Sarang and the team completely blew it out of the park and took on the daunting job. They completed all the repairs in a timely manner and had amazing communication. My 20 year old truck drives the best it ever has and feels like i just picked it up off the lot. I cannot recommend this shop enough.
Theo Chambers
02:57 19 Oct 23
I had an oil change for my 2017 Toyota RAV4 today and was genuinely happy with their service, pricing and customer service. In particular Sarang who helped me with my service was extremely nice, honest and prompt. I also witnessed how they took care of other customers while I was waiting for my car. They run an honorable business and imo customer satisfaction is the core of their business.
Raina Chen
21:38 18 Oct 23
The folks at Supertech have been nothing but spectacular. I brought in my camperized E350 that few shops were willing to work on, and they diagnosed my engine issue in no time, communicating with me in a timely and transparent manner throughout the process.Following the diagnosis, they made the repair in one day and I hit the road, safely driving the van to California and back without the problem recurring. I will be coming back here for all my future service and repair needs.
Curtis Heinen
16:54 18 Oct 23
hi sarang this is romel,, thanks a lot for fixing my mazda 5 2006 air coolerleak, im very satisfied with the service and the price,,sarang is very kind and knowledgeable and the mechanic too they did a great job for my car and sarang is very professional even if i got my car allready he is offering me to bring back the car after i drove it and they will check it again for leaks and they will do it without fee,,im super happy they are very dedicated to the job they take good care of the customer,,i am recommending this shop to everyone looking for a good customer service,, politeness and most of all the quality of work is amazing,,cheers guys🍻
Itoy Guzman
03:51 17 Oct 23
I did oil change. Friendly and many other free check-ups. The most of all, more than a reasonable price!
Went to a different car shop before where they totally overcharged me. Here at super tech I got a fair and knowledgeable consultation and repair. Definitely would highly recommend and will come back if I have further issues. Especially Sarang did an amazing job Wich I would like to highlight.Thanks.
Eric Donner
05:09 16 Oct 23
Got my car there and ask them to change my break pads. Cause I found them making a noise when in low speeds I was breaking. They checked the car and said there is no problem with my break pads and the noise is from the rotor which is a bit rusty. They told me it is better not to change and keep it for the next service which I can change pads and rotors both together. Finally, they charge me 0 $. I will definitely recommend them to everyone as they act professional and honest at the same time.
Hawre Kohzadi
00:28 15 Oct 23
100% Would recommend this shop. They saved my butt when I broke down moving across the country. They were able to squeeze my car in, diagnose and repair a major leak within 2 days (even though their schedule was full) and get me back on the road in time to start my new job. Everyone was super helpful especially Sarang who followed up days later to ensure I reached my destination safely. Thank you again guys I really appreciate all you did for us.
Nathan Johnston
06:44 14 Oct 23
Wendie Fletcher
21:30 10 Oct 23
Sarang and the team at supertech saved our butts, we broke down outside of Squamish and noone was able to look at us for weeks and noone wanted to come near our German car. We were on a tight schedule and getting worried and then these guys came to save the day and the road trip, said it was no worries even with us waiting for a tow to get us to them and not knowing what kinda time and they had our wee car back and running within a day. Great works, great price, great people, great warrantee, wouldn't go with anyone else now.
Paige Deighan
18:04 09 Oct 23
I had my whole muffler system replaced (with catalytic converters) and the service I experienced was second to none. They absolutely put their customers first and do not over sell you on any extras. I will recommend this shop to all my friends who are looking for a reliable mechanic; for their home or business.
wendi contois
19:59 04 Oct 23
I had A/C noise problem they fixed it , very well with fair price ,Thank u guys 🙏
farrokh moayedi
05:28 01 Oct 23
This is the best auto repair shop I have ever been too. Sarang and his team helped me save $1000 from the dealer quote. Supertech is my go to repair shop for my 2016 Volvo. They are good communicators and are honest and fair.5 star service!
Jill Johnson
18:19 30 Sep 23
Needed brakes, pads and an oil change. Sarang looked after us. Very happy with the car service and customer service. Recommend.
Sam de la Fosse
23:48 27 Sep 23
Adham Riad
19:05 23 Sep 23
Very friendly staff. Thanks for a job well done!
Supertech auto shop is one that leads by example - amazing staff who take time with you and understand the gravity and stress of car repairs.10/10 experience, and I plan to continue to use this shop as my go to. Such exemplary service that I wouldn't even consider another shop. Thanks guys!
Eric Grolman
00:25 21 Sep 23
The staff at Supertech were excellent! They rushed my car in for service when the engine light was on and provided a cost effective service which made my car run smoothly again!Thank you!!
NANCY CALAMO
22:51 19 Sep 23
Great service. They really go out of their way to be helpful, supplying a courtesy car when mine wasn't ready and staying late for me to collect my car when I was late returning to pick it up. And the work was perfect.
Kenneth Lindemere
17:40 19 Sep 23
I was really thrilled with the results of the service. I brought in my car, thinking it would be a transmission issue. After they investigated they suggested that i shluld only get the certain part of it replaced rather than the whole thing which a lot of service places do not do these days! I ended up saving up to 600$. They were truly amazing and i highly suggest this place to anyone. The team is very attentive and professional as well as friendly. Highly suggested!!
Buse Dereli
16:41 17 Sep 23
This shop had an extremely friendly and pleasant staff, which made my experience truly great. They were super accommodating to our needs and they did an amazing car service. The staff went above and beyond and I highly recommend this shop! - Kat
Susanna Piasecki
06:58 16 Sep 23
reza ebrahimpour
19:25 12 Sep 23
First class in every respect I recommend highly
Barry Samuels
17:21 12 Sep 23
Have been coming here for years and always impressed with the service!
Great customer service. Very attentive to my concerns. Went above and beyond to make sure my vehicle was in good running condition!
james west
17:24 28 Aug 23
Great service and fast. Went in for an oil change, but I will be back for other service.
Phil McDonald
22:01 24 Aug 23
great service and got our repairs done on time, very friendly folks here!
Borna Shani
09:50 24 Aug 23
The team here are excellent. They are really transparent about any work they need to do, sending an itemised work order to approve before starting so you know exactly what they are doing. They even sent me a video of the part that was broken so I knew why it needed fixing.
Sebastian Nicholson
14:49 19 Aug 23
Amazing customer service, and they're willing to go out of the way to help whatever situation you're in. I would definitely recommend.
Supertech Auto Repair is a lifesaver! I ran into an emergency on the road, and they were incredibly accommodating, timely, and understanding towards my specific car situation. They quickly identified and fixed the issue, showcasing their professionalism and efficiency. The welcoming and fair service, along with their extra care, sets them apart. If you're seeking top-notch auto repair with a personal touch, Supertech is the place to go. Highly impressed and highly recommended!
Wow! Supertech Auto Repair really knows what customer service is all about. This is my second time having repairs done to my Audi Q5 TDI and the experience has been absolutely seamless. They keep you informed of your repairs, they get you booked in for an appointment quickly, every staff member whom I interacted with were knowledgeable and friendly. There hourly labour rate is not the cheapest out there, however I strongly believe you get what you pay for. Each time I have had significant savings over taking my vehicle to the Audi Dealership for repairs. Highly recommend to others if you are looking for a 5 star experience!
Stacey Cook
18:14 08 Aug 23
I brought my Audi to check an engine light. After running the diagnostics the guys at SuperTech determined that I needed a VERY expensive sensor. Rather than pressure me to decide, they suggested I think about it. While I was driving home I got a call from the Super Tech manager who suggested I check the extended warranty coverage from Audi. Sure enough, I am covered and if all goes well, this shouldn't cost me a dime. I really appreciate how helpful and thorough the guys were even though there wasn't anything in it for them. That's why I take all four of my cars to SuperTech!
Thanks for the reliable and solid maintainances every time. Always have done rapidly!
Tatsuya Hama
05:41 05 Aug 23
Supertech Auto provided exceptional service! When my car needed repairs, I had concerns about the time and cost involved. However, they surpassed all expectations.Their team swiftly fixed the issue, and to my surprise, they even offered a discount as it took less time than anticipated. I truly appreciate their honesty and dedication to customer satisfaction.Now, my car runs perfectly, and I couldn't be happier with their expertise. Supertech Auto has gained a satisfied customer in me, and I'll gladly recommend their services.Five stars for the outstanding experience! ⭐️⭐️⭐️⭐️⭐️
Luca Panucci
02:22 05 Aug 23
Highly recommended! Sarang went above and beyond to make sure my car was properly taken care of, and the experience was exceptional: prompt, thoughtful, effective. Not going anywhere else.
Simon Pickup
17:41 03 Aug 23
I have been using the services of Supertech Auto in North Vancouver for a year and they have proven to be excellent. I highly recommend them.
Bree Stoddart
19:43 31 Jul 23
Kind and courteous service. Super tech is very thorough and trustworthy. They have great systems in place or inspections and maintenance tracking and it shows in the quality of their work.
Jacob Muir
19:04 31 Jul 23
I had a shifting problem with my 2008 jeep wrangler. I took it to the dealership they replaced some parts that did not fix the problem. I then took it to another shop, but again they could not fix the problem. So after spending $$$ I tried Supertech Automotive Service Center. Service advisor Sarang Mehri assured me they would find and fix the problem. They put technician Sho Maegawa on the job and like promised Sho found a faulty wiring harness. The vehicle now shifts perfectly. So glad I found a shop that is honest and skilled at their job, I would highly recommend Supertech Automotive.
10/10 experience with the guys at Supertech.Check engine light & limp mode came on middle of our road trip, they got us in and diagnosed same day - kept it overnight & had it fixed for me the next afternoon.Another bonus was it was way cheaper then it would be to get it fixed in my home town. Great guys!
Tyanna Bolin
19:44 07 Jul 23
I've trusted them for many years. Always honest, provide sound advice, and have reasonable prices. The absolute best car service experience I've ever had.
Was able to fix my vehicle with quoted price, with a guarantee! Friendly, efficient service, will use again for sure. thank you.
Louise Baker
21:09 06 Jul 23
I just want to say that these guys were great to deal with. They replaced brake and rotors on my Sprinter and stayed late to get the job done as we were leaving on a trip the next day. They've got my business in the future and were a pleasure to deal with.
Ewart Aitken
02:19 04 Jul 23
I've been going to Supertech long before it was Supertech, and I just had service last week which confirmed why I will still keep going. I had a warning light in my dash pop up, they checked it, and as there was nothing wrong, they sent me on my way with no charge. Thanks guys!
Kristina Stead
17:25 03 Jul 23
I was hesitant taking my vehicle to a new shop, one I had never used before nor had a personal recommendation for. I have a guy who does my minor repairs and maintenance on my vehicle, like oil changes and tire swap. This repair I knew i needed a shop who could handle a larger scope of work that would be required. The manager Sarang was great. He talked me through the process. There was a lot more work required than what was previously thought and diagnosed but he again talked me through it all. Once picked up, the vehicle drove great with no further whirring sounds. In the end there was an adjustment required after I had picked it up but the work done quickly and with no additional cost to me. I was assured my vehicle was safe to travel many hours away as I had a vacation planned months in advance of this work being required. - great service - great staff - reasonable pricing / quote
Services my car with oil change and brake replacement. Very good service and very reasonable price. Convenient location too. Will be back for the next service.
Great experience at super tech auto! They were very busy but stayed overtime to make sure I got my car back the same day. I got my alignment and brakes done and made a huge difference driving home. Customer service was also fantastic!
Kelsey eckford
01:48 16 Jun 23
Great service, honest pricing and they don't try to upsell or find things wrong with your vehicle. Quote was exactly the same as the final bill. Will definitely be coming back!
Excellent service above and beyond and Sean stepped up with a free lunch when the supplier didn't deliver on time. Looking forward to hot summer in a cool car. It may be my imagination but it seems to run better too 😉
Timothy Rhodes
21:14 14 Jun 23
Great customer service, on time, accommodating and explained everything about the vehicle at pickup. Would use again!
Had an alignment and oil change done with Supertech. Was well priced and alignment is perfect, my last alignment at another shop left my steering wheel off center... not here! 4 stars however for lack of paperwork after my alignment, didn't get a spec sheet and didn't get anything mentioning that the "Complimentary Multi-Point Visual Checkup" was done. Also to note, the key drop-off is EXTREMELY sketchy. I could fish a key out of that drop-off in 30 seconds with a magnet. Definitely left some anxiety. Would recommend dropping your car off during business hours.
Devin Morrison
19:11 01 Jun 23
Supertech Auto provides excellent (thorough & exceptionally efficient) auto service with professional, insightful and friendly staff. A huge thanks of appreciation to my Service Advisor, Sarang Mehri, and Auto Technician Sho Maegawa. They really care about their work and repaired both my vehicles quickly with delivering top rated service and kept my total cost reasonable. They are honest and personable people - acting with transparency and truly committed to building a long lasting and successful relationship with their customers. It didn't take much time for me to build trust and feel more confident that my vehicles are taken care of properly - primarily coolant leak cylinder head gasket repair on Honda Civic DX and perform needed service on Range Rover P38. I highly recommend Supertech Auto Repair North Vancouver to all new customers who are seeking professional and reliable diagnosis and service. Thanks again Supertech for helping to keep my cars run like new.
Susie Benzan
16:26 30 May 23
Great service! Excellent people. Very fair and knowledgeable.
I'm very happy with the service provided. People in supertech auto are super nice. I like the transparency, attitude, and particularly appreciate honesty of the staff. They stand behind the quality of their service and never try to sell me something that I do not need. Highly recommend!!!
CanadaCraftsStudio
17:01 20 May 23
I brought in my Ford Transit 250 for a suspension/wheel noise diagnose. They did a great job in identifying the problem and fixing it within a few days. The quote was reasonably priced. Customer service was excellent, thanks Sarang!
Tim Jaschek
16:47 15 May 23
Very professional and responsive. Sarang communicated all repairs and findings quickly and clearly. Good service and a job well done.
Scott Endres
16:40 15 May 23
Meagan Braun
23:24 14 May 23
Excellent knowledge& customer service . We called yesterday as we had a problem with our Dodge Ram 3500. They got the truck in to diagnose the problem for today which we very much appreciated as it is a work truck.Turns out, both u joints had to be replaced and once they diagnosed the issue, we got a very reasonable and accurate quote and Supertech actually got it fixed end of day today. I can't say enough about we happy we were with their service which was friendly, efficient and knowledgeable. We will certainly use them again, I highly recommend them.
Julia Morley
00:43 13 May 23
Always fantastic, reliable service, and super trustworthy. Everyone is incredibly friendly and will go above and beyond to make things as convenient as possible.
Allison Cano
00:10 12 May 23
Sarang and his team were outstanding! Great, friendly, quality service. My A/C and heat have never worked better! I highly recommend Sarang his team for work you can trust!
Walter Mustapch
00:53 11 May 23
Russ Erickson
18:54 09 May 23
James Phillips
01:54 05 May 23
New to Supertech Autorepair. Great service, very accommodating with the time, exceptionally thorough and very efficient. Could fix a few issues in a timely manner. The vehicle feels great. Very customer service oriented! Will go to them every year for maintenance . Thank you.
Vera and Genc
19:06 01 May 23
Started going to Supertech once I was out of pre-paid dealership services and they have always done excellent work on my Audi S5
Andrew Pedersen
16:49 01 May 23
Supertech is absolutely worthy of their excellent reviews! Couldn't be happier. Service Manager Sarang was incredibly helpful and delivers top notch customer service. Not sure about other folks, but I've never had a mechanic call me to tell me they REMOVED over 2hrs of labour and parts charges because the damage was not as extensive as originally thought. So if you are looking for an establishment that is honest, does quality work, and has impeccable customer service then you owe it to yourself to try Supertech Auto!
attila csupity
21:50 28 Apr 23
Really honest crew. Their main priority is to do well by their customers... and not just to maximize their invoices. I'm happy to take my car to them again and again.
Brought my Volvo C70 in for a rebuilt engine. Price was right to keep my car on the road for another 5+ years and it runs so much better!I would highly recommend SUPERTECH AUTO!
Lorna Mac Donald
18:34 27 Apr 23
Amazing customer service. Got my car in last minute and fixed the problem all within a couple hours.
Lesley Mackenzie
18:27 27 Apr 23
I've been servicing my Honda here since I moved to the north shore last year. Always friendly, attentive and thorough 🙂
Vanessa Wright
20:03 24 Apr 23
Everyone was extremely professional.The manager went out of his way to ensure everything was completed with a detailed explanation of the work that was done.I recommend these people as a trusted source for auto repairs.👍
peter callaghan
02:30 24 Apr 23
Supertech north van deserves more than 5 stars. Sarang was my service advisor and Sho was my technician. I had previously taken my 2012 Nissan Titan to the dealership and spent so much money on my electrical issue that the Nissan dealership ultimately couldn't fix. I also had tried another local shop who spent 2 hours looking at my problem just to turn me away because of the complexity (without a fee, thankfully). I finally found Supertech in North Van as a last resort (I live an hour away), and I'm so glad I did. Sho tracked down and fixed my issue. Communication from Sarang was great, sending me pictures as they diagnosed and started repairing my issue, and ensured they had my authorization before spending more time fixing the issue than originally hoped. These guys even stayed an hour past closing on a Friday to finish up my job since I couldn't easily leave my car there and come back later. Incredible work from this team. Thanks so much
Excellent service ! Price and all I was looking for 👌🏼
Took our vehicle to Supertech to diagnose an oil leak coming from our Hyundai Santa Fe. They were able to get me in within one business day to take a look. While cleaning the engine they identified an issue with a gasket and called me to propose a solution to repair it. An estimate was provided right away and they were able to order the part and have the work done same day. The staff were very professional and customer oriented. Would definitely recommend them.
Craig Krause
23:38 20 Apr 23
Absolute professional, friendly and honest service. Worked diligently to get me back on the road. Thanks guys!
Jasper Pizza
18:50 20 Apr 23
One of the best experiences I've had with an auto repair shop. Sarang is honest, kind, and super helpful. You can tell he genuinely cares about his customers. Would definitely recommend going there, and I'll be back! 🙂
Wendy FitzGerald
16:14 20 Apr 23
I cannot say enough about the treatment and quality of service from the good people at Supertech Auto on Marine Dr. N Van. The business is courteous professional and competent.When you add to this that they really cared about finding and fixing my problem, and have an amazing ability to communicate options. So my personal thanks to you all thanks for making me smile. 2 thumbs up.PS: Invoiced Repairs where less than Quoted...I saved money. Who does this anymore?Thanx GuysDon LaceyRed Seal IP Industrial Mechanic (Millwright)
donald lacey
17:43 13 Apr 23
Great service, friendly, on time, on budget. What's not to like! I'll use them again for sure!
Don Murray
18:21 27 Mar 23
Both of my low beam headlights went out and I tried Mr. Lube to find that they couldn't fix it, so I came to supertech auto for some help and I'm genuinely very impressed with their service. I believe it was Sarang that welcomed me into the shop, and he was super chill with the whole process which provided a comfortable environment. I dropped my car off at 3:30, He helped me elaborate on the problem, I handed the keys over and then I came back at 5 and the car was done! For an electrical problem I was taken back by how quickly they had completed it. It was my first experience at an auto shop so I was expecting them to push services and prices but they were very reasonable with everything which was amazing. I would definitely come back and do recommend
Their team is completely trustworthy and upfront about vehicle issues. It's evident that the employees are treated with respect, and that translates into a cohesive team that will go the extra mile for you!
omar aneflouss
17:05 07 Mar 23
Ed Blunderfield
21:09 21 Feb 23
Arvin Mazhary
03:41 26 Jan 23
Unbelievable service, professional, accurate and quick repair done. I would definitely recommend this shop for any automotive needs.
Alex Andjelkovic
01:55 11 Nov 22
This was the 1st time using Supertech Auto Repair, after taking my SUV to the dealership for all servicing. The staff were extremely courteous, knowledgeable, kept me informed throughout the service. In fact my final bill came in far below the original quote and the mechanic's process managed to save me $100's. Will definitely take my SUV back to Supertech and will pass on my recommendation.Greg Laba
Exceptional customer service, attentiveness, and expectation management. Their online quote system with full pictures and details, and estimates for each repair is fantastic.Had my 2007 335i in for an assessment and radiator hose replacement.
Andrew Jones
19:09 04 Nov 22
Just had my 2016 Lexus NX200t in few days ago for an oil change and general checkup. This group is unreal in term of service, professionalism, punctual, honesty. This is my third time at this location since the car ran out of warranty. My car runs like new at 160000K. I totally recommended!!
Lee Nguyen
17:52 04 Nov 22
One of the best shops in the lower mainland. Competent, skilled mechanics. Clear communication throughout from the office. Highly recommend.
miaad eshraghi
19:33 10 Oct 22